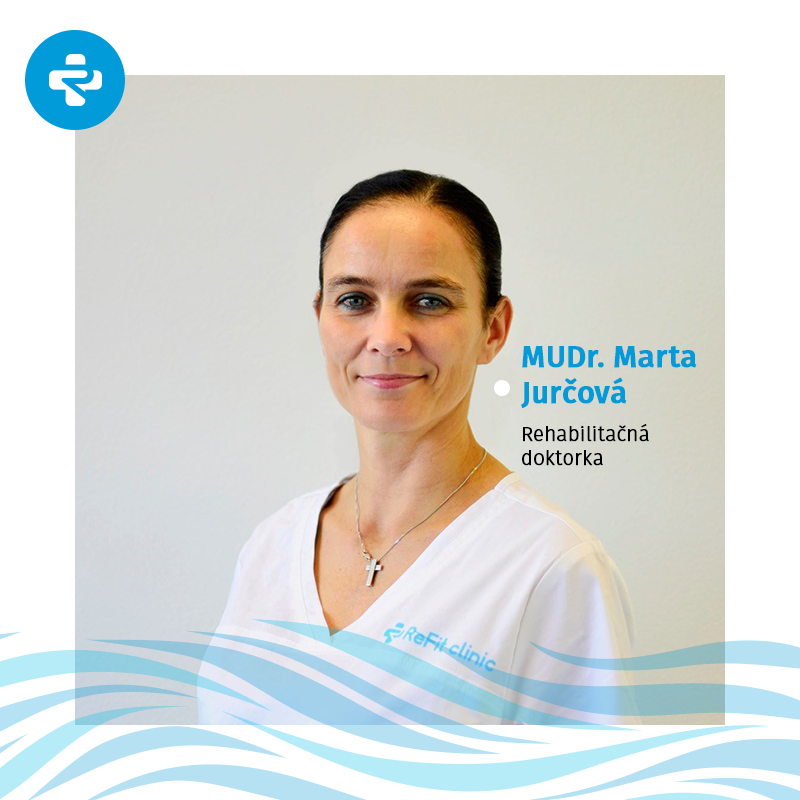 About me:
MUDr. Marta Jurčová
Rehabilitation doctor
She specializes in the diagnosis, prevention and treatment of musculoskeletal disorders at any age.    
In 1999 she graduated from the Medical Faculty of Charles University in Bratislava.
From 2000 to 2004 she worked in the Hospital of the Ministry of Defence as a secondary physician and in 2003 she obtained a first degree attestation in internal medicine.
In 2007 she joined Ružinovská poliklinika, a.s. as a secondary physician in pre-attestation training in FBLR under the guidance of doc. MUDr. Karol Hornáček, by his side she had the opportunity to really get to know and find out what the field of rehabilitation hides and then the human musculoskeletal system became fatal for her.
In 2013 she moved to UNB and SZU NsP Ružinov to the rehabilitation department in the field of FBLR under the leadership of the head of MUDr. Jarmila Petrovičová, where in 2017 she received certification in the specialized field of Physiotherapy, balneology and medical rehabilitation.  
Since she was fascinated by rehabilitation, to help patients in a different way than giving them medication, actually with her own hands or by guiding and directing their physical activity, she participated in a number of specialized courses that pushed the doctor further.
- 2006: Škomas - school of masseurs and sauna practitioners: classical massage masseur
- 2008: Private Rehabilitation Centre MOON: Professional certified course -Pilatesmedical
- 2009: Private Rehabilitation Centre MOON: Professional certified course - Fitlopty in rehabilitation and sports medicine
- 2011: MOON Private Rehabilitation Centre: Specialist course - Shoulder Pain Syndrome in Rehabilitation and Sports
- 2013: RehabilitationPragueschool: Dynamic neuromuscular stabilization according to " Kolář" -A
- 2013: Private Rehabilitation Centre MOON: Expert course - Fascial fitness
- 2014: RehabilitationPragueschool: Dynamic neuromuscular stabilization according to " Kolář" -B
- 2014: RehabilitationPragueschool: Dynamic neuromuscular stabilization according to " Kolář" -C
- 2014: SZU Bratislava: Specialization course - Laser therapy
- 2015: RehabilitationPragueschool: Dynamic neuromuscular stabilization according to " Kolář" -sports course I
- 2016: private rehabilitation centre MOON: Specialist course- Scoliosis and postural defects
- 2016: NsP BA: Course: KinesioTaping Fundamentals /KT 1/ KinesioTapingAdvanced/KT 2/
- 2016:Attestation thesis in FBLR on DNS and Pilates concept
- 2017:Professional course:  OovFundamentalBasic
- 2018: PerformansHealthAcademy: Athens -Greece 
- 2019: Rehabilitation treatment of some types of functional female sterility by L. Mojžišová method: part: A Mobilization of the ribs by the method of L. Mojžišová
- 2019: Rehabilitation treatment of some types of functional female sterility by the method of L. Mojžišová: part: Treatment of the pelvic floor musculature with the L. Mojžišová method  
- 2019: RehalabAcadamyCertificate: Intensive course: diagnosis and therapy of the ankle joint and foot part I and II 
- 2019: REHAMIL-physiotherapy centre Milovice, Czech Republic : Yoga therapy - basic part
- 2019: Healthy and Fit : Physiotherapy and physiotherapy training of pelvic floor muscles under the guidance of Mgr. Zuzana Wolekova